How to Fill and Seal Your Cremation Jewellery Pendant
Please read all instructions carefully before filling pendants.
1. Locate the pendant opening. Depending on the piece, this can be the bail itself (the loop that the chain goes through) or a small, square screw somewhere on the pendant.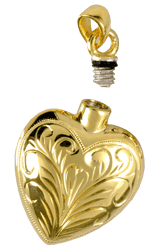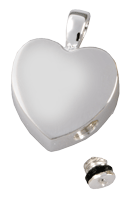 2. Using the screwdriver we provide, unscrew the pendant and place the provided funnel into the opening.
3. Fill the pendant about 90% full, making sure to leave room to replace the screw. A toothpick can help guide the remains into the opening.
4. Sealant is not necessary as all of our precious metal cremation jewelry pendants and rings have a black rubber gasket on the threaded screw making them air and water tight.
5. When replacing the screw pay close attention to the position of the bail, so the pendant will hang correctly when restrung on the chain or cord.
Please note that we do provide sealant for the stainless steel cremation jewelry line and  the sealant will dry quickly. If it dries before rethreading, it will not thread properly. If this occurs, soak the screw in acetone (fingernail polish remover) to remove the sealant and try again. We recommend waiting 24 hours before wearing your pendant to ensure the pendant has been completely sealed.
If you are having difficulty filling your pendant, please feel free to call us
01777 712 712